Music written just for you
Would you like an instrumental lullaby or instrumental song especially created for your child or loved one?  Peta Williams can create a song specifically for the child or person in question.
The music will be composed, arranged and orchestrated by Peta Williams with her virtual instrument library.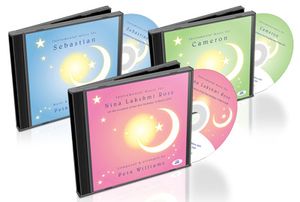 How much does it cost?
Each personal CD of one song specifically created for a child or loved one, together with two other original tracks, will cost only AU$160.00 plus postage and handling of $11.50 (Australian dollars).
Your personalised CD will contain:
The specially commissioned instrumental song for your child or loved one, between 2-5 minutes long
One or two tracks from Peta's other CDs
A reprise of the specially commissioned music to complete the CD
A personalised CD cover appropriate to your child or loved one, based on our standard template.
Note:  All rights of the owner of the copyright in the sound recording reserved. Copyright of all music and arrangements, and rights to public performance or broadcast, are retained by the creator, Peta Williams.
What do you need to do?
Firstly, complete the 'Contact me' form by clicking here. You will then receive an email asking you for the following information:
Name of the child or person for whom the music will be written
Age of the child or person for whom the music will be written
Any special interests of the child or person concerned
Photographs of the child or person concerned (low resolution initially)
The kind of music you would like, for example, a lullaby or relaxation music.
Peta will then contact you and discuss this music project with you further.  If you both agree to proceed, you will then be asked to submit your order and payment via PayPal. 
We look forward to creating something unique for you.
Note: For overseas customers, please email your enquiry and we can send you a PayPal invoice.  Overseas delivery costs to the UK and USA are generally AU$25.00.
PLEASE NOTE: We use Express Post with tracking within Australia to protect your product.
$160.00 plus $11.50 Express Post
For multiple purchases, please contact Peta Williams through the contact page.